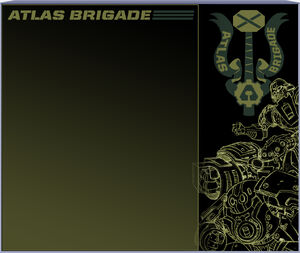 The Atlas Brigade
is one of the two factions you choose at the beginning of
Project Exonaut
. The founders of the Exonaut Acadamy disagreed with each other on how to fight an enemy named "
Megalith
" so they split into two teams or factions. The Atlas Brigade thought strength and power is better, while the
Banzai Squadron
focuses more on speed and agility.
Since the Exosuits in the Atlas Brigade are mainly focused on strength and power, most of the Exosuits have high shielding. However, the suits are not so nimble, so this becomes a disadvantage if you're attempting to chase and hack an enemy with high speed.
Exosuits in Atlas Brigade
Edit
Phantom from Atlas Brigade (starter)
Sentinel from Atlas Brigade (starter)
Behemoth from Atlas Brigade (starter)
Ben 10 Prototype (Both factions get it for the birthday celebration; the Atlas variant has green arms and legs)
Ultimate Humungousaur from Ben 10 Ultimate Alien (unlocked at level 10)
Gwen from Ben 10 Alien Force and Ultimate Alien (unlocked at level 10)
Jake from Adventure Time (unlocked at level 10)
Van Kleiss from Generator Rex (unlocked at level 10)
NRG from Ben 10 Ultimate Alien (unlocked at level 10)
Rath from Ben 10 Ultimate Alien (unlocked at level 10)
Bling Bling Boy from Johnny Test (unlocked at level 10)
Lumpy Space Princess from Adventure Time (unlocked at level 10)
Skalamander from Generator Rex (unlocked at level 20)
Chowder from Chowder (unlocked at level 20)
Mojo Jojo from The Powerpuff Girls (unlocked at level 20)
Gumball from The Amazing World of Gumball (unlocked at level 20)
Alien X from Ben 10 Ultimate Alien (unlocked at level 20)
Rigby from Regular Show (unlocked at level 20)
Penny from The Amazing World of Gumball (unlocked at level 20)
Four Arms from Ben 10 (unlocked at level 30)
Agent Six from Generator Rex (unlocked at level 30)
Princess Bubblegum from Adventure Time (unlocked at level 30)
Ultimate Cannonbolt from Ben 10 Ultimate Alien (unlocked at level 30)
Grim from The Grim Adventures of Billy & Mandy (unlocked at level 40)
Dexter from Dexter's Laboratory (unlocked at level 40)
Vilgax from Ben 10 Alien Force (unlocked at level 40)
Elite Rath (unlocked at level 50)
Elite Mojo Jojo (unlocked at level 50)