The Banzai Squadron is one of the two factions you choose in at the beginning of Project Exonaut. The founders of the Exonaut Academy disagreed with each other on how to defeat a enemy named "Megalith" so they split into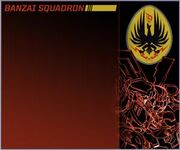 two teams or factions. The Banzai Squadron thought speed and agility is better, while the Atlas Brigade focuses more on strength and power.
Since the Exosuits in the Banzai Squadron are mainly focused on speed and agility, most of the Exosuits are very mobile. However, the suits usually have low shielding, so this becomes a disadvantage as you can crash easily if you're inexperienced in facing an enemy with high shielding.
Exosuits in Banzai Squadron
Edit
Ninja from Banzai Squadron (starter)
Tempest from Banzai Squadron (starter)
Dragon from Banzai Squadron (starter)
Ben 10 Prototype (Both factions get it for the birthday celebration; the Banzai variant has red arms and legs)
Finn from Adventure Time (unlocked at level 10)
Marceline from Adventure Time (unlocked at level 10)
Rex from Generator Rex (unlocked at level 10)
Ultimate Big Chill from Ben 10 Ultimate Alien (unlocked at level 10)
Mordecai and Rigby from Regular Show (unlocked at level 10)
Manus from Sym-Bionic Titan (unlocked at level 10)
Johnny Test from Johnny Test (unlocked at level 10)
Beemo from Adventure Time (unlocked at level 10)
Ultimate Echo Echo from Ben 10 Ultimate Alien (unlocked at level 20)
Bobo Haha from Generator Rex (unlocked at level 20)
Flapjack from The Marvelous Misadventures of Flapjack (unlocked at level 20)
Darwin from The Amazing World of Gumball (unlocked at level 20)
Ultimate Kevin from Ben 10 (unlocked level 20)
Skips from Regular Show (unlocked at level 20)
Tina Rex from The Amazing World of Gumball (unlocked at level 20)
Ultimate Swampfire from Ben 10 Ultimate Alien (unlocked at level 30)
Biowulf from Generator Rex (unlocked at level 30)
Corus from Sym-Bionic Titan (unlocked at level 30)
Ice King from Adventure Time (unlocked at level 30)
Heatblast from Ben 10 (unlocked at level 40)
PPG Suit from The Powerpuff Girls (unlocked at level 40)
Samurai Jack from Samurai Jack (unlocked at level 40)
Elite Marceline (unlocked at level 50)
Elite Manus (unlocked at level 50)